The total investment capital of HQC Tra Vinh Social Housing Project is nearly 655 VND with the scale of 18ha, including 1,123 townhouses from 2-to-5 floors with the total floor area of 102,965m2. Of which there are 808 townhouses with1 ground floor and 1 floor, 195 townhouses with 1 ground floor and 2 floors, and 120 villas with 1 ground floor and 1 floor. It is expected that HQC Tra Vinh Social Housing Project will be started construction in Quarter 1/2017 and completed, handover from Quarter IV/2017 to Quarter IV/2018.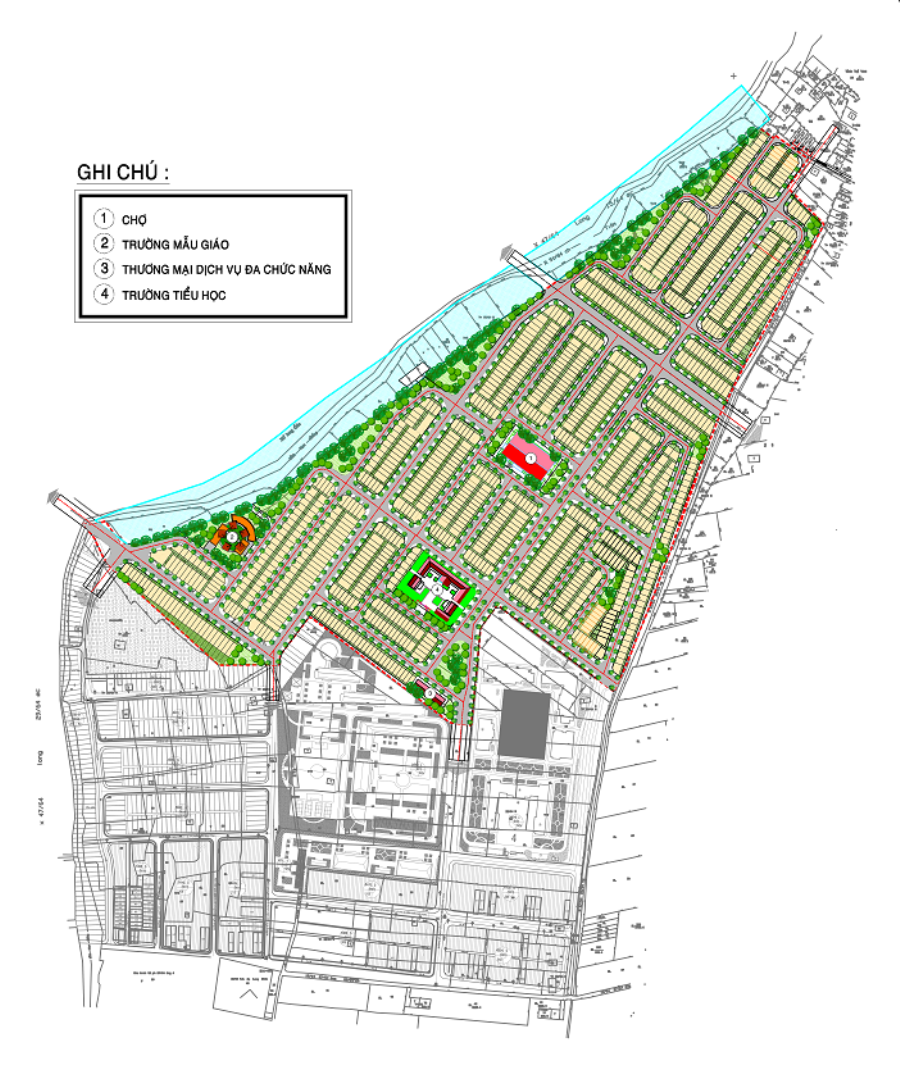 1/500 Detailed Planning For The Social Housing Project In Tra Vinh City (HQC Tra Vinh).
It is located right at the administrative center of Tra Vinh Province. HQC Tra Vinh is adjacent to Tiem Tuong canal - Long Binh 3 Bridge, Ward 4, Tra Vinh City, Tra Vinh Province. In addition to the available infrastructure in the area, this project will also be developed in-house facilities such as supermarkets, kindergartens, clinics, community living areas, parks, etc. for the best living needs of residents
At present, the demand for housing of low income people in Tra Vinh Province is very large. Therefore, the housing construction and stable and long-term accommodation for people are considered a strategic goal and important to contribute to social security, showing the interest of Leadership for people's life.
With the strategy of promoting the social housing and affordable commercial housing development throughout the southern provinces, Hoang Quan Group has been deploying many projects in the western region such as Thuong Thanh Residential Area, HQC Can Tho, HQC Binh Minh, etc. In which, Thuong Thanh Residential Area project (Can Tho) was completed, handed over and put into operation in 2015. Continuing the chain of projects, Hoang Quan Group is carrying out procedures and construction of HQC Tra Vinh, HQC Hoa Phu (Vinh Long) social housing, etc. Previously, 29/12/2016, the People's Committee of Tra Vinh Province issued Official Letter No. 4525/UBND-CNXD approving the policy for Hoang Quan Consulting-Trading-Services Real Estate Corporation as the investor of the Tra Vinh HQC social housing project.
Source: Hoang Quan Group